To create a landing page, first determine the right platform for building it, then define your goals, pick a call to action, write your copy and design your ad and link your landing page to your ad.
Follow these eight steps to create a landing page that will help increase your on-page conversions:
1. Determine the Right Landing Page Platform for You
Your landing page platform is where you will build your landing page. Those developing pages using code may do this via their website's backend, whereas those seeking easy-to-design landing pages that do not require design or web knowledge would choose landing page builders like Leadpages or Instapage. Since the average person doesn't know how to write code, you will most likely use a landing page builder platform.

2. Define Your Goal
The goal of your landing page is your conversion objective; this is most often lead collection, event registration, newsletter opt-ins or downloads. The goal of your landing page should match your advertising goal. Keep your advertising goal in mind to be better equipped to design a landing page that will reach said goal. If you're using a landing page builder, choose a template that will fit both your goal and brand.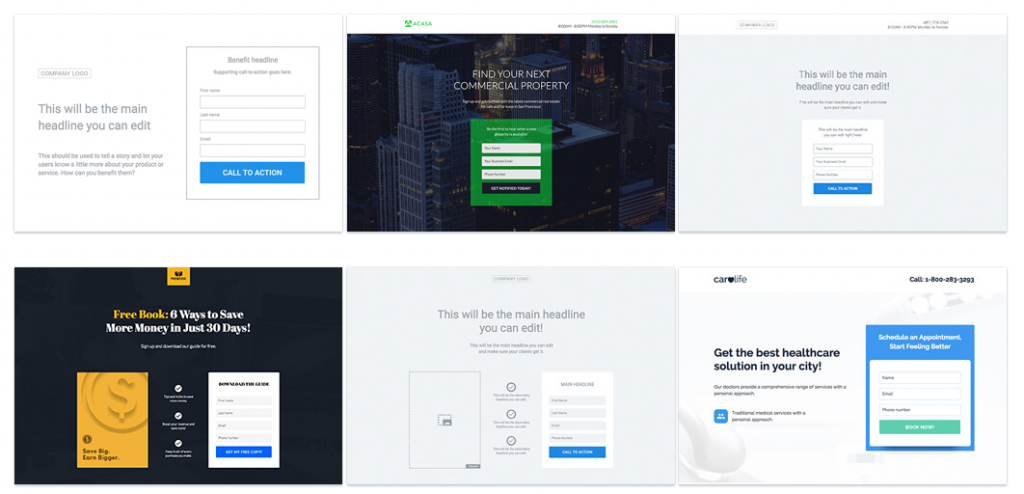 3. Pick a Call to Action
Your landing page's CTA needs to reflect your ad's CTA. For example, if your ad says "get a free pass" and your landing page says "become a member now," then there is a discrepancy between the two. Facebook considers changing your offer from ad to landing page a deceptive marketing practice and may, therefore, reject your ad or even shut down your account for doing so.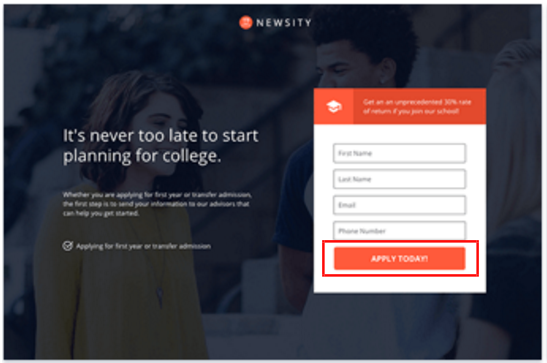 4. Write a Catchy Headline
Your headline should more or less match the headline of your ad. However, it is your chance to reiterate the reason a user is visiting your landing page. Reminding them why they're there keeps them on the page and makes them more likely to convert. Remember that mobile landing pages have a limited amount of space, so keep your headline short and to the point. The more you say, the less that will be read.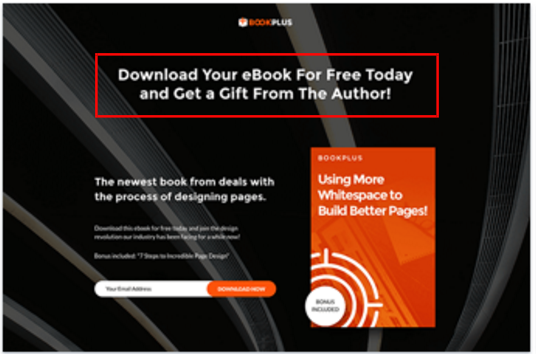 5. Source Supporting Media
Every landing page should include a visual to make it more aesthetically pleasing and to help convey the ad's message. Most often, landing pages use images, but there are instances when a business will choose to use a video instead of an image on their landing page. No matter which you choose, be sure that your media is high quality, sends a positive message and is relevant to your ad's goal and your brand. Try Pond5 for tons of quality images at no cost.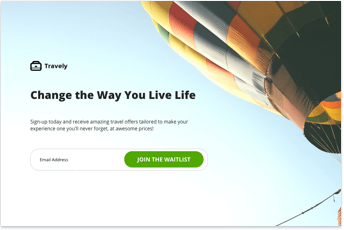 6. Use a Simple Contact Form
The less on your landing page, the better — contact form included. It's tempting to request lots of user contact information, but the more you require a user to provide, the less likely they will convert. For example, if you're offering a free guide that is sent electronically, you don't need to request a user's phone number or mailing address. Instead, condense the form to require only their name and email address to help drive more conversions.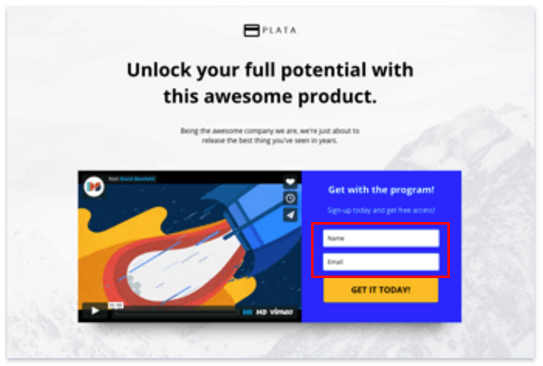 7. Link Your Landing Page to Your Ad
To get your ad directing clicks to your new landing page, you will need to update your ad's URL with that of your landing page. Those creating their landing page using code will use their own custom URL, whereas those using a landing page builder will be able to generate a URL that can be copy and pasted automatically.
Link your Landing Page to Google Ads
If you're using your new landing page for a Google ad, start by logging in to your Google Ads account.

Go to your ads in Google Ads.
Select the corresponding campaign, then go to Ads.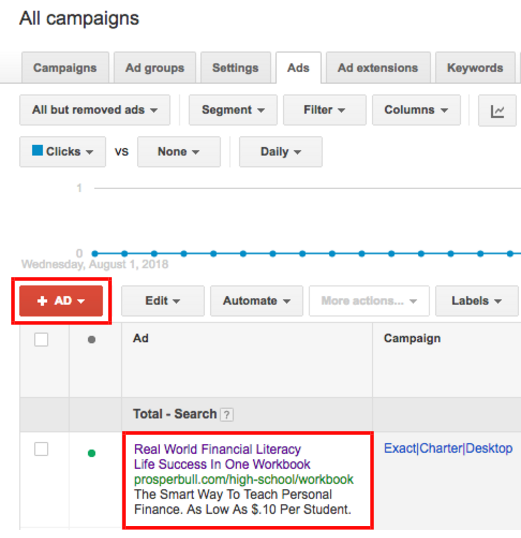 Update Ads in Google Ads.
You will then have the option to update the URL of existing ads, create a new ad or duplicate an existing ad. This is where you can input your new URL.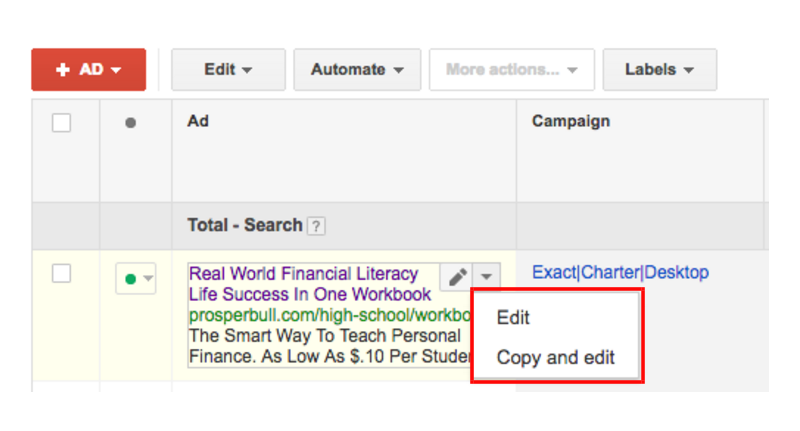 Update URL in Google Ads.
Link your Landing Page to Facebook Ads
Once you're familiar with the differences of Facebook landing pages, go to your Facebook Ads Manager account. Click the "Ads" tab in the upper right-hand side of the screen.

Ads tab in Facebook Ads Manager.
From the Ads page, either create a new ad by pressing the green "+Create" button or update an existing ad by hovering over it and clicking or duplicate.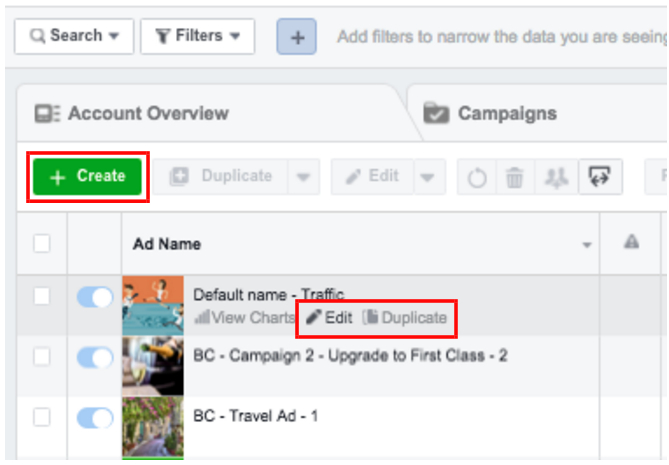 Edit or create a new Facebook ad.
If creating a new ad, follow the prompts. If you're updating an ad, copy and paste your landing pages URL and click "Publish" to save.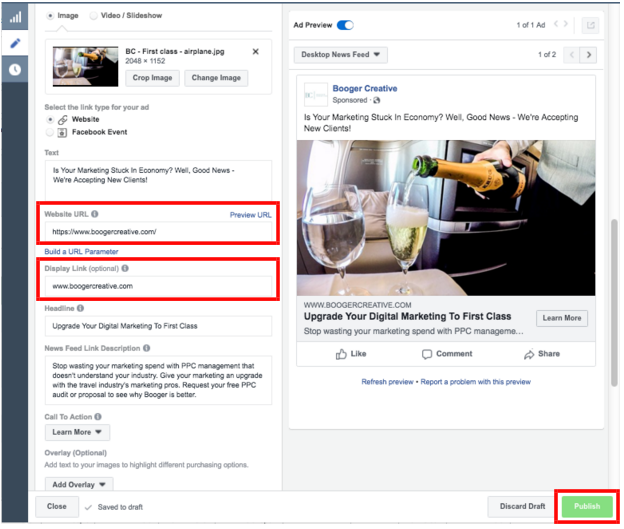 8. Add Analytics Tracking to Landing Page
In order to track your landing page's performance, you will need to be sure to add data and analytics tracking to your page. There are a number of analytics tools you can use, from the classic (and free) Google Analytics to Heap. These will give you a code, which is then inputted into your landing page code. If you're using a website builder, you will paste that code into the area of your website platform designated for analytics tracking.
8. Optimize Your Landing Page
Once your landing page is live and up-to-date, you'll want to begin monitoring and optimizing your landing page. Like your ads, ad settings, audience and keywords, landing pages need to be continuously improved. Using data from the landing pages gives advertisers insights into areas of opportunity they can use to update and optimize ads.
Some elements are very obviously going to impact landing page effectiveness while others can be very surprising. For example, you know tweaking a headline or using an alternative image will impact your landing pages success but, oddly, changes like switching the font or changing the color of the CTA button can also impact conversion rates drastically.
Here are some ways to optimize your landing page:
Segment by traffic source: Segment your audience via ads and adjust landing pages to better fit groups of people that convert
Try different offers: Create campaigns that call out two offers to discover which is more effective at capturing leads
Adjust color scheme: Color can have a powerful impact on conversions; you may find certain colors outperform others, so be sure to test them in your design
Change image: It may seem obvious to you which image is best for your landing page, but what actually resonates with your target audience could be something different
Instill urgency: Try using limited offers with only a certain number of offers available or for only a small window of time to test if that drives more conversions
Play on emotions: Test both ad copy that makes people happy, as well as ad copy that plays on people's pain points to find which works best for your target audience
Adjust sales copy: You may not realize that you're overselling, but you also might not see that you're underselling either; try variations of sales copy for your offer to discover your sales sweet spot
Include testimonials: People trust others more than they trust businesses, so using testimonials in your landing page can help increase conversions; test different testimonials to see which is more effective
Always A/B test landing pages: Find out which landing page is the most effective by using two different ones simultaneously
To optimize landing pages, you will make adjustments one at a time. Updating only one aspect of the landing page lets you better understand if that change was fruitful or not. For example, if you change both your headline and your image and that results in increased conversions, you won't be able to tell whether the headline or the image drove the increase. Also, remember that changing an offer or CTA will mean you also need to update your ad copy to match it.
Tips for Creating Great Landing Pages
Landing pages may all look a bit different to reflect each advertiser's branding, messaging and offer. However, great landing pages have a few things in common. Landing pages will all follow a similar format to ensure clean and clutter-free pages, a straightforward CTA, a compelling offer and more.
Here are some tips for creating a great landing page:
Don't use more than one CTA: It can be appealing to use more than one CTA, but don't do it as landing pages should only use one CTA
Choose a valuable offer: An offer might be cost-effective, but consider whether it is enticing to your audience and whether the offer will help you reach your goals
Be clear in your message: Be sure not to confuse your ad's message
Keep your design clean: Don't muddy up your landing page with a lot of copy and images; keep it simple to make it effective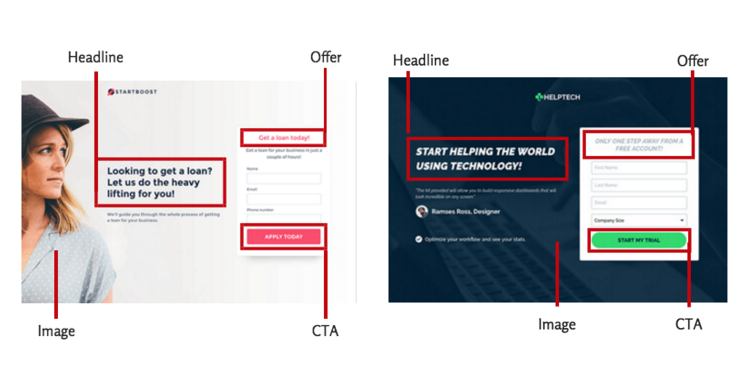 Frequently Asked Questions (FAQs)
Where Can I Create a Free Landing Page?
It's not impossible to find a free way to create a landing page, but the catch is most free options come with caveats. For example, you can create a landing page for free if you know how to build web pages using code, although the average small business owner's area of expertise isn't in web development. Other free options exist, such as Mailchimp, Wix and Squarespace, but to create free landing pages with them, you will need to become a member.
Is a Splash Page the Same as a Landing Page?
A splash page is not synonymous with a landing page. A splash page is essentially a pop-up on a website. A landing page, on the other hand, is its own freestanding web page.
How Do I A/B (or Split) Test Landing Pages?
A/B testing is a simultaneous test of two differing landing pages run to segments of the same audience. Platforms like CrazyEgg allow automated A/B testing, which enables users to change single variables on their landing pages and see how that change affects conversions.
Can I Use the Same Landing Page for Facebook Ads and Google Ads?
Facebook Ads and Google Ads have different requirements for landing pages. Failing to comply with Facebook's advertising policies can lead to rejected ads and banned accounts. If you think your landing page would be good to use with your Facebook ads, be sure to update it to meet Facebook's requirements. Learn more about How to Create Facebook Landing Pages.
The Bottom Line
Landing pages are where users land when they click on your ad. They are your opportunity to convert valuable clicks to leads and achieving your advertising goal. Advertisers that use landing pages typically see higher conversion rates, making their ads more effective and their ad spend go further. If you're not using them already or not using them at all, it's time to start.
If you're hesitant to create your landing page yourself using code or a landing page builder, you can still get a great landing page. Fiverr is a great source for finding professional freelancers who are experts at building landing pages that convert. For as little as $5, you can test out landing pages for yourself and start seeing more conversions right away.
1. Unbounce
Unbounce is one of the best and oldest Landing Page builder. You can create the exact design that you want with the help of Unbounce Landing page builder as well as popups and sticky bars etc.
You can also find pre-built templates that can help you to create a professional and attractive landing page in just a few clicks. If you are looking for a premium, feature-rich, and reliable Landing Page Builder then Unbounce is the best option.
You can use Unbounce to create Landing Pages for WordPress, Shopify and many other CMS platforms.
Drag and Drop builder
Pre-built Templates
Integrations with External tools and Services like Mailchimp, Google Ads, Facebook, Live chat, Hubspot, etc.
Reliable Pricing plans.
AMP Pages
2. Leadpages
Leadpages is also a simple Landing page builder tool to create landing pages for your site. Leadpages is a more than a landing page builder tool.
Like Unbounce, Leadpages also have some amazing and advanced features that can help you create highly-professional landing pages.
Here are some main features of Leadpages:
Drag and Drop Builder
Digital File Hosting and Delivery
Lead Backup
Online Sales and Payments
Unlimited Traffic
Popups
A/B Testing
3. Thrive Optimize + Thrive Architect
Thrive Architect and Optimize is the best WordPress Landing Page Builder to Create stunning, Light-weighted and SEO-friendly Landing Pages for your WordPress Site.
Thrive Architect is a WordPress Page Builder Plugin that you can use to create fully-professional and advanced Layouts in WordPress. The Best Thing about Thrive Architect is the functionality and stability of the Thrive Architect. You can buy Thrive Architect and Thrive Optimize for a one-time payment with free lifetime updates.
If you want to perform A/B Testing then Thrive Optimize helps you with that. Thrive Architect is a WordPress landing page builder plugin but Thrive Optimize is an A/B tester. You can buy all the Conversion-focused Thrive Themes Products in the Cost of one With Thrive Membership.
4. Clickfunnels
ClickFunnels is the best tool to create funnel Landing Pages. But if you want to create a Single landing page than a complete funnel then ClickFunnels is not a Good Option.
ClickFunnels is also a premium but a reliable tool with some amazing features. Here are some main features of ClickFunnels:
Drag and drop builder
Complete Website Hosting
Pre-built templates
Email Autoresponder
A/B Testing
Conversion Tracking
Opt-ins and many others.
5. Instapage
Instapage is almost very similar to the leadpages Landing Page Builder. Both have a simple drag and drop builder tool and A/B testing features along with others.
But at some points, Instapage is unique with some amazing features like Heatmap Analytics.
6. GetResponse
Get Response is an email marketing tool but it also has a landing page builder tool that helps webmasters and marketers to create professional landing pages in a few minutes.
Getresponse landing page builder can be a good option to create single landing page as well as entire funnel pages.
Getresponse allows to create almost any type of Landing pages and integrate with multiple external tools and services like Unbounce.